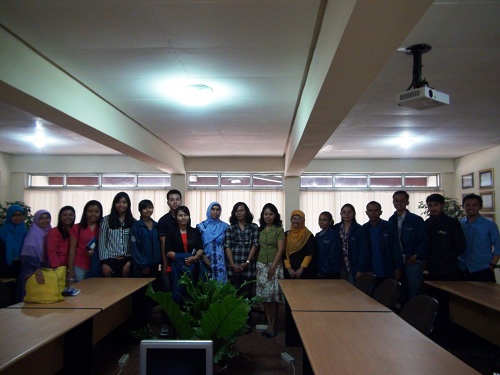 Biology Master Study Program of Udayana University, Bali visited Biology Master Study Program, UB on May 23, 2014. The visiting guests consist of 12 people who are 2 lecturers, 2 researchers, and 8 students. Their visit intentions were to understand curriculum of Master Biology Program, UB and researches.
Head of Biology Master Program, Tri Ardyati welcomed Udayana Visit in Faculty meeting room at 11 am. She explained research road map and working group which are the excellent programs in Biology Department. Then, some students and lecturers asked some questions regarding curriculum and research.
As discussion ended, the visitors went to Laboratory of Science and Life Sciences, BIOSAINS, and Lab of Physiology, Tissue Culture and Microtechnique. Laboratory technician described some equipments used for experiments. The visit ended at 2 pm and visitors headed back to Bali.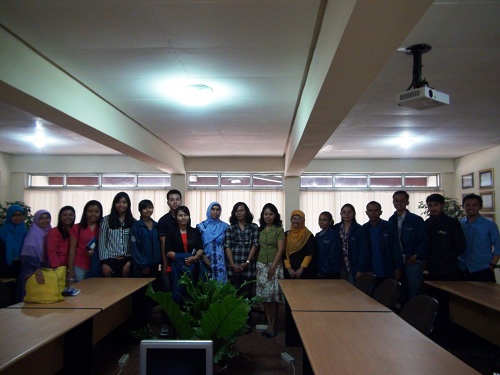 Program Studi Master Biologi Universitas Udayana Bali mengunjungi Program Studi Master Biologi Universitas Brawijaya pada 23 Mei 2014. Rombongan dari Denpasar tersebut berjumlah 12 orang yang terdiri dari 2 dosen, 2 orang dari lembaga penelitian dan 8 mahasiswa. Kedatangan mereka bertujuan untuk study banding, mengetahui kurikulum Master Biologi UB, dan penelitian-penelitian yang dilakukan.
Ketua Prodi Master Biologi UB, Tri Ardyati menyambut kedatangan pihak Udayana di Ruang Pertemuan FMIPA UB pada pukul 11.00. Beliau menjelaskan tentang road map penelitian dan working group yang menjadi unggulan Jurusan Biologi. Setelah selesai, beberapa dosen dan mahasiswa mengajukan pertanyaan yang berkaitan dengan kurikulum dan penelitian.
Setelah diskusi selesai, rombongan prodi Master Udayana dipersilakan untuk mengunjungi LSIH (Laboratorium Sains dan Ilmu Hayati), BIOSAINS dan Lab Fisiologi, Kultur Jaringan dan Mikroteknik. Para laboran menjelaskan alat-alat yang digunakan untuk penelitian dan beberapa penelitian yang on-going. Kunjungan diakhiri pada pukul 14.00 dan rombongan kembali menuju Bali.