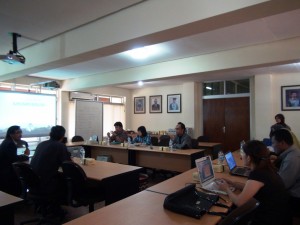 One of outstanding medical companies Kalbe Farma Inc. visited Biology Department, Brawijaya University in May 30, 2014. The guests were Fransiscus Xaverium Widiyatmo as Deputy Director Coporate, Ivone Tri Susanti, S.Si as Business Development Senior Manager and Yohanes. This visit was part of their road shows to some universities in Indonesia to seek possible reseach cooperation.
Head of Biology Department, Widodo, M.Si., PhD. Med.Sc explained research roadmap of Biology Dept, the one attracted Those representatives was the development of bioinformatic based medicinal herb research. Besides, Vice Dean II of Faculty of Science described isolation and purification of active substances which can be used for medicine. The next research was presented by Ir. Retno Mastuti,M.Ag.Sc, D.Ag.Sc who explored betalain pigment as dye and herbal medicine therapy that were good for human health. Other lecturers such as Dr. Sri Widyarti, M.Si and Muhaimin Rifa'i, PhD.Med.Sc and Biology Doctoral student, Abdul Hamid Toha and Medical Science Doctoral student, Mariska, also presented their researches In that meeting.
In the end of meeting, one of Kalbe Farma Inc. representatives said that researchers in universities need a "connector" to design integrated-research to obtain maximal result. Kalbe Farma Inc. can be a potential "connector" for those researchers. He was also impressed by bioinformatic developed by Biology Dept. "Bioinformatic is kind of a new science and still rarely applied, so I really appreciate this,". He added.