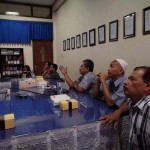 It is an honor that Prof.Dr. Ir. Y. Purwanto, DEA, Executive Director of National Program MAB-UNESCO Indonesia, LIPI who would like to become an examiner of Opened Examination conducted by one of students of Biology Doctoral Study Program and presented a guest lecture with theme "Ethnobiology and Biosphere " on Monday, June 2nd 2014 in Biology Meeting Room.
In the guest lecture, he said that Ecosystem Services in Indonesia has high economical value if managed well. Unfortunately, to make it come true, main obstacles will be faced such as politic and investment. The lack of government support and investment will inhibit the process of biodiversity management. In addition, many habitats disappear and forest fires increase are two factors which make the management more difficult.
Human, the main manager of biodiversity also becomes big problem recently. "Cultural obstacles such as human behavior which eager to get result instantly, people tend to use foreign products and do not appreciate local products can inhibit biodiversity management," He explained.
Therefore, it is needed many researchers who can handle and solve those problems and supported by government and society so biodiversity management will run well. Researches on Ethnobiology should be increased because the number is lack, only about 0, 05%.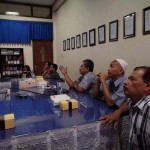 Suatu kehormatan bagi Jurusan Biologi karena Prof.Dr. Ir. Y. Purwanto, DEA, Direktur Eksekutif Komite Nasional Program MAB-UNESCO Indonesia, LIPI berkenan untuk menjadi penguji Ujian Terbuka Mahasiswa Program Studi Doktor Biologi dan memberikan kuliah tamu dengan tema "Etnobiologi dan Cagar Biosfer" pada Senin, 2 Juni 2014 bertempat di Ruang Pertemuan Jurusan Biologi.
Dalam kuliah tamu tersebut, beliau menyampaikan bahwa Ecosystem Services di Indonesia memiliki nilai ekonomi yang tinggi jika bisa dikelola dengan baik. Sayangnya, untuk mewujudkan hal tersebut, banyak sekali tantangan dan kendala yang harus dihadapi. Beberapa kendala tersebut adalah kendala politik dan investasi. Kurangnya dukungan pemerintah dan investasi menghambat proses pengelolalaan biodiversitas. Begitu pula dengan banyaknya habitat yang hilang dan bahaya kebakaran hutan yang semakin menyulitkan pengelolaan tersebut.
Manusia, yang menjadi pengelola utama juga menjadi permasalahan terkini yang mempengaruhi pengelolaan biodiversitas. "Hambatan-hambatan budaya seperti sikap manusia yang menginginkan hasil instan, lebih bangga menggunakan produk luar negeri dan tidak menghargai produk lokal sangat menghambat proses pengelolaan biodiversitas," jelasnya.
Oleh sebab itu, dibutuhkan peneliti-peneliti yang mampu menangani dan menyelesaikan tantangan-tantangan tersebut dan didukung pula oleh pemerintah dan masyarakat sehingga cita-cita pengelolaan biodiversitas dapat terwujud. Penelitian-penelitian tentang etnobiologi dan biodiversitas juga harus ditingkatkan karena jumlahnya masih sedikit sekali sekitar 0,05 % saja.