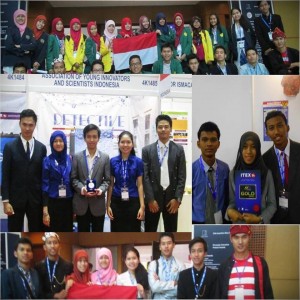 One more international achievement was awarded to students of LSO RITMA BEM FMIPA Brawijaya University in competition of International Invention Innovation and Technology Exhibition (ITEX) 2014 and Asian Young Inventor Exhibition (AYIE) 2014. They were Benny Chandra Monacho, Dwiky Ramadian, Rizal Yulistio Aji, Desak Ketut Tristiana Sukmadewi, Ayu Arsyi Anggraini, Evi Nurfalah, Wildan Ichsan Sabila, and Ahmad Ridho. Both competitions were held in May 8th-10th, 2014 in Kuala Lumpur Convention Centre, Malaysia.
The students joined two categories of competition, Environment and Electricity. In Environment category, they showed innovation of DETECTIVE (Detergent Filter Effective Solution). This equipment was used to filter detergent waster to be fresh water with neutral pH, so it could be used to wash again and safe for aquatic ecosystem. On the other hand, in Electricity category, they showed prototype of MODUS (Motorcycle Dual Machines) project. It was a design for motor cycle with two engines; using gasoline and battery so hopefully the new technology is able to reduce fuel.
In ITEX competition, the students had to compete with many competitors from various countries. Surprisingly, Indonesian representatives were the youngest inventors since others were university lecturers and researchers. "In this competition, we focus on environmental empowerment." said Benny Chandra Monacho as Team Leader. ITEX, held by MINDS (Malaysian Invention & Design Society) since 1989, is an international competition joined by local inventors and researchers to show their inventions to business community that are eager to commercialize them. This program becomes a facilitator among researchers, inventors, and companies from Malaysia, Asia, and Europe.
There were many international inventors having good products participated in this competition. Luckily, two-month good preparation for project, material and booth expo made everything work. In both competitions, Brawijaya University students achieved Gold Medal for AYIE, silver medal for ITEX and 2 special awards. The first special award was given by Korea Invention News for Honor an Exceptionally Outstanding and Creative Invention at the25th International Invention, Innovation, and Technology Exhibitiom (ITEX) 2014 while the second was given by The Office of The Basic Education Commission Ministry of Education (Thailand) at the Asian Young Inventors Exhibition 2014.
Hopefully, awards that were achieved by Benny Chandra Monacho (Instrumentation 2012), Dwiky Ramadian (Instrumentation 2012), Rizal Yulistio Aji (Instrumentation 2011), Desak Ketut Tristiana Sukmadewi (Biology2011), Ayu Arsyi Anggraini (Biology 2011), Evi Nurfalah (Biology 2012), Wildan Ichsan Sabila (Geophysics 2013), and Ahmad Ridho (Geophysics 2013) can inspire other students to innovate and solve social problems so Indonesia name is better in international world.