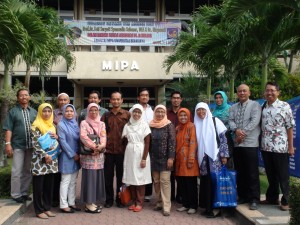 Biology Doctoral Program, UB was visited by assessors from BAN-PT (higher education accreditation) after two academic years. The visit held on Friday and Saturday, July 4rd-5th, 2014 was led by two assessors, Prof. Dr. Tati Suryati Syamsudin Subanar, DEA. from ITB dan Dr. Nisyawati  from UI. They arrived in Malang on Thursday (3/7/2014) and stayed at UB Hotel. The next day, agenda began at 8 am at Meeting Room in Faculty of Science. The first agenda was clarification of Borang 3B presented by Dean of Faculty, Vice Dean 1 and 2 and Head of Biology Doctoral Program.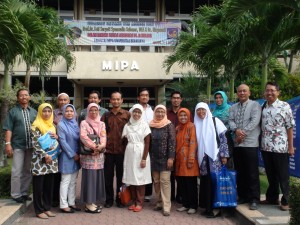 Program Doktor Biologi (PDB), FMIPA UB mendapat kesempatan visitasi dari BAN-PT dalam rangka akreditasi PDB setelah dua tahun berjalan. Visitasi yang dilaksanakan pada hari Jum'at dan Sabtu, 4-5 Juli 2014 dipimpin oleh dua assessor yaitu Prof. Dr. Tati Suryati Syamsudin Subanar, DEA. dari ITB dan Dr. Nisyawati  dari UI. Beliau tiba di Malang pada hari Kamis (3/7/2014) dan menginap di UB Hotel. Keesokan harinya, acara visitasi dimulai pukul 8.00 WIB di Ruang Pertemuan FMIPA. Agenda pertama yaitu klarifikasi borang 3B oleh Dekan FMIPA, Pembantu Dekan 1, Pembantu Dekan 2, dan Ketua Program Studi S3 Biologi.
At 8.45 am, clarification of Borang 3A was presented by Head and Secretary of Biology Department and Head of Biology Doctoral Program. The next clarification was from PIC and lecturers until 11.30 am. After break time, clarification was conducted by students, stakeholders, and employees until 2.45 pm. After all clarifications, both assessors visited laboratory of Biosain, Biomolecular-cell, FKM, Microbiology, etc. Visitation in the first day ended at 6 pm after dinner for breaking fasting.
In the second day, assessors gave accreditation files and the agenda ended at 10.30 am. Both headed to Abdurrahman Shaleh airport to go back to West Java. Biology Doctoral Program is still waiting for the accreditation result and wish for good result.
Selanjutnya pada pukul 8.45 WIB, penjelasan untuk klarifikasi Borang 3A dengan pimpinan JBUB (Ketua dan Sekretaris Jurusan ) dan KPS. Klarifikasi berikutnya dengan anggota PIC dan dosen hingga pukul 11.30 WIB. Setelah istirahat, klarifikasi dilanjutkan dengan mahasiswa, stakeholder, dan tenaga kependidikan yang berakhir pada pukul 14.45 WIB. Setelah semua klarifikasi selesai, kedua assessor mengunjungi laboratorium Biosain, LSIH,  Biomol Sel,  FKM, Mikrobiologi, dan lain-lain. Visitasi hari pertama berakhir pada pukul 18.00 WIB setelah menyantap hidangan buka puasa.
Pada hari kedua visitasi, assessor memberikan berkas-berkas akreditasi dan acara pun berakhir pada pukul 10.30 WIB. Keduanya bergegas menuju Bandara Abdurrahman Sholeh untuk kembali menuju Jawa Barat. PDB masih menunggu hasil akreditasi dan berharap hasilnya memuaskan.