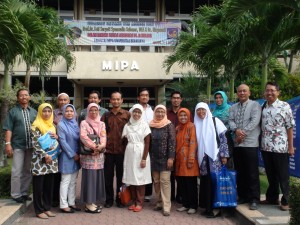 Biology Doctoral Program, UB was visited by assessors from BAN-PT (higher education accreditation) after two academic years. The visit held on Friday and Saturday, July 4rd-5th, 2014 was led by two assessors, Prof. Dr. Tati Suryati Syamsudin Subanar, DEA. from ITB dan Dr. Nisyawati  from UI. They arrived in Malang on Thursday (3/7/2014) and stayed at UB Hotel. The next day, agenda began at 8 am at Meeting Room in Faculty of Science. The first agenda was clarification of Borang 3B presented by Dean of Faculty, Vice Dean 1 and 2 and Head of Biology Doctoral Program.
At 8.45 am, clarification of Borang 3A was presented by Head and Secretary of Biology Department and Head of Biology Doctoral Program. The next clarification was from PIC and lecturers until 11.30 am. After break time, clarification was conducted by students, stakeholders, and employees until 2.45 pm. After all clarifications, both assessors visited laboratory of Biosain, Biomolecular-cell, FKM, Microbiology, etc. Visitation in the first day ended at 6 pm after dinner for breaking fasting.
In the second day, assessors gave accreditation files and the agenda ended at 10.30 am. Both headed to Abdurrahman Shaleh airport to go back to West Java. Biology Doctoral Program is still waiting for the accreditation result and wish for good result.