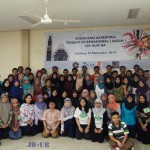 On saturday 15/11/14 and 22/11/14, superior program of Biology Department, PHK PHK held an event "socialization of SAR AUN QA" (Self Assesment Report ASEAN University Network Quality Assurance)" in the framework of prepare ASEAN international accreditation.
socialization held in 15-11-14 at FMIPA Building, Second floor was attended by more than 60 students and some lecture of biology department. Para mahasiswa sangat antusias mengikuti acara demi acara. Selain acara sosialisasi SAR AUN QA,mahasiswa yang berprestasi dan berkesempatan student outbound ke luar negeri juga berbagi pengalaman dengan mahasiswa lainnya.
Acara sosialisasi pun berlanjut pada tanggal 22 November 2014 yang bertempat di Ruang Biologi, Gedung Biologi Lantai 2. Pada kali ini acara yanng berlangsung pada pukul 08.00 – 16.30 WIB tersebut dihadiri oleh seluruh dosen dan karyawan Jurusan Biologi.