The 6th International Conference on Global Resource Conservation (ICGRC) 2015

10 - 01 - 2015

admin
Headline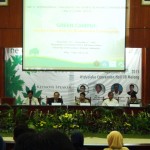 Untuk ke-enam kalinya, Jurusan Biologi UB telah sukses melaksanakan kegiatan seminar ICGRC menjelang akhir tahun 2015 ini. Rangkaian kegiatan ICGRC ke-6 ini meliputi seminar pada tanggal 30 November 2015, Simposium pada tanggal 1 Desember 2015, dan Workshop pengembangan kurikulum pada tanggal 1-2 Desember 2015.  Seminar ICGRC ke-6 mengambil tema Green Campus : Centre of Excellent for Biodiversity Conservation dengan menghadirkan beberapa keynote speaker dari Thailand, Malaysia, Indonesia. Narasumber dari Thailand, Prof. Chavalit Wongse-Ek (Mahidol University) menyampaikan materi tentang implementasi konsep Green Campus di Mahidol University. Hal senada juga disampaikan oleh Prof. Fahrul Huyop (Universiti Teknologi Malaysia), yang menyampaikan bahwa untuk dapat mewujudkan green campus maka diperlukan kerja sama (team work) dan komitmen (commitment management) dari pihak-pihak terkait. Dua hal ini menjadi critical success factor (CSF) untuk menuju green campus. Selain dua narasumber di atas, narasumber lain yang turut serta menyampaikan materi adalah Prof. Sutiman B. Sumitro (UB) dan Dr. Teguh Triono (Direktur KEHATI).
Simposium dilaksanakan di UB Guest House mengambil tema "Penguatan dan Penyetaraan Program Studi Biologi di Indonesia Menuju Standarisasi Internasional". Acara ini terselenggara berkat kerjasama dengan Konsorsium Biologi Indonesia (KOBI) sebagai salah satu perhimpunan Prodi Biologi seluruh Indonesia. Kegiatan ini diprakarsai dengan adanya kebutuhan pemenuhan ahli Biologi untuk menjamin keberadaan dan konservasi flora fauna endemik Indonesia, terutama di wilayah terpencil. Hadir dalam acara ini, sebagai pembicara, di antaranya Prof. Suwarno Hadisusanto (Ketua KOBI), Prof. Sutiman B. Sumitro (salah satu founder KOBI), Dr. Teguh Triono (Direktur KEHATI). Selain itu, simposium ini juga dihadiri oleh perwakilan masing-masing Prodi Biologi dari berbagai universitas seluruh Indonesia.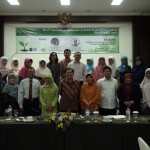 Workshop kurikulum dengan tema "Developing of Program Learning Outcome for Strengthening Biology Study Program" diadakan guna menunjang pemenuhan kompetensi, standar untuk dapat bersaing secara nasional atau internasional. Pemateri dalam workshop kurikulum ini di antaranya Prof. Chavalit Wongse-Ek (Mahidol University, AUN Expert Assessor) pada hari pertama dan Ir. Endrotomo, M.Ars. (ITS, Staf Ahli Dirjen DIKTI) pada hari kedua. Penyampaian materi oleh Prof. Chavalit dimulai dengan pemaparan tahapan-tahapan dalam penyusunan expected learning outcome (ELO) kepada peserta workshop kemudian dilanjutkan dengan praktek penyusunan ELO. Di hari kedua workshop, Ir. Endrotomo menjelaskan mengenai penyusunan RPS mata kuliah berbasis KKNI yang kemudian dilanjutkan dengan diskusi dengan para peserta. Workshop ini diikuti tidak hanya oleh perwakilan dari Prodi Biologi (dalam atau luar UB) tetapi juga undangan dari prodi/jurusan, fakultas lain di lingkungan UB serta PJM UB.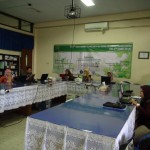 Selain itu, panitia ICGRC 2015 juga menyelenggarakan workshop gratis yaitu Bioinformatik "Drug Target and Protein Interaction" dan GIS "Mapping Using Q-GIS", bagi 20 pendaftar pertama seminar. Workshop gratis ini dilaksanakan di UB Guest House dan Jurusan Biologi.