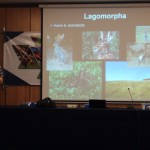 Pada tanggal 10/11/2016, salah satu dosen dari Queen's University, Belfast, UK, Dr. Neil Reid berkunjung ke Jurusan Biologi FMIPAUB. Dr. Reid merupakan pengajar di School of Biological Sciences dengan bidangnya Ecology, Evolution, Behaviour and Environmental Economics. Kunjungan beliau ke Jurusan Biologi FMIPA UB bertujuan untuk memberikan kuliah tamu, memperkenalkan Queen's University Belfast dan menawarkan kerjasama antara Queen's University Belfast, UK dan Program Studi Magister Biologi (PSMB) di bidang Konservasi, ekologi dan biodiversitas.
Kuliah tamu yang diadakan tersebut bertempat di gedung MIPA Center Lantai 1 pada pukul 09.00 – 11.00 WIB, dan dihadiri lebih dari 30 mahasiswa Program Studi Magister Biologi (PSMB). Dalam kuliah tamunya, Dr. Reid menyampaikan satu topik yang berjudul "Conservation Management of Irish Hare (Jackrabbit)". Topik tersebut mengispirasi mahasiswa yang tertarik dalam bidang konservasi dan Biodiversitas hewan, dimana telah digambarkan bagaimana kehidupan, perubahan populasi Irish Hare (Jackrabbit) dan berbagai tingkah-laku mamalia tersebut. Berbagai pertanyaan menarik dari mahasiswa juga dilontarkan kepada pemateri tunggal pada akhir sesi.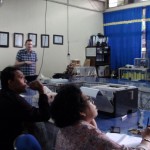 Acara tidak berhenti disitu saja, di Ruang Pertemuan Jurusan Biologi juga terdapat agenda ramah-tamah dengan dosen pengajar PSMB dan penyampaian program kerjasama  yang ditawarkan oleh Queen's University Belfast yang sangat menarik, salah satunya adalah program Doble Degree di bidang konservasi, ekologi dan biodiversitas. Kedepannya, Jurusan 
Biologi UB berencana merealisasikan kerjasama ini dengan menggandeng  beberapa instansi dalam negeri sebagai Stakeholdernya.