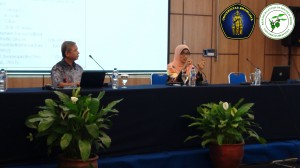 Kuliah tamu dengan topik "Perspective Complexity and Nanoscience in Herbal Medicine" oleh Assoc. Prof. Sharida Fakurazi, BSc [Hons]. PhD. DIC  dari Universiti Putra Malaysia yang dipandu oleh Prof. Sutiman B Sumitro telah berlangsung pada hari/tanggal Kamis/7 Desember 2017 pada pukul 09.00 – 11.30 WIB dan bertempat di Gedung MIPA Center Lantai 1, Ruang MC 1.1. Kuliah tamu ini diselenggarakan oleh Research Center of Physalis Herbs (RCPH) UB bekerjasama dengan FKG, FK dan FMIPA UB (Jurusan Biologi).
Kuliah tamu ini bersifat terbuka dan dihadiri oleh mahasiswa S1, S2 dan S3 serta staf pengajar dari bidang biologi, fisika, kimia, kedokteran dan bidang2 lain yang terkait baik di lingkungan UB maupun di luar UB, seperti UM dan UNISMA.
Topik yang dipresentasikan telah menarik minat mahasiswa untuk mengembangkan ide penelitian tentang drug delivery system secara eksternal menggunakan teknologi nano pada ibu hamil sehingga mengurangi resiko gangguan kehamilan.