Stadium General Lecture Prof. Ken-Ichirou Morohashi, P.hD.

12-Sep-2018

admin
Headline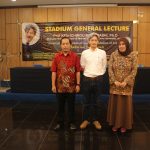 Jurusan Biologi Fakultas MIPA, Universitas Brawijaya mengundang Prof. Ken-Ichirou Morohashi, P.hD. dari Kyushu University, Japan sebagai keynote speaker dalam kuliah tamu pada hari/tanggal Kamis, 6 September 2018.
Kuliah tamu yang bertema "Molecular Mecanism of Sex Differentiation of Animal" tersebut berlangsung pada pukul 08.00 – 10.30 WIB dan bertempat di gedung MIPA Center Lantai 1. Tidak sedikit mahasiswa Jurusan Biologi yang antusias ikut serta menghadiri kuliah tamu tersebut baik dari PS S1, PS S2 maupun PS S3.