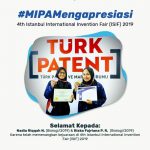 Nadia Riqqah Nurlayla dan Rizka Fajriana Putri Ramadhani adalah mahasiswa baru Jurusan Biologi, Fakultas MIPA UB yang berhasil menorehkan prestasi di tingkat Internasional. Prestasi kali ini datang dari ajang kompetisi The 4th Istanbul International Invention Fair (ISIF) 2019 yang diselenggarakan oleh Turkish Patent and Trademark Office.
Kompetisi tersebut berlangsung pada tanggal 17-22 September 2019 di Istanbul Attaturk Airport, Istanbul, Turki. Pada kegiatan tersebut tim mahasiswi biologi 2019 UB berhasil meraih 3 penghargaan sekaligus, yakni silver medal, special award dari Association of British Inventors and Innovators dan honor award dari APIICIS- Associação Portuguesa De Inventores, Inovadores E Criativos – Inventarium-Science.
Pada kompetisi tersebut Nadia dan tim membuat karya berjudul "Mastitis Paper Detection : Utilization of Filter Paper, Surfactants, and Dye as a New Detection Method of Subclinical Mastitis in Dairy Cow. Ide MPD" yang berasal dari keprihatinan mereka akan tingginya tingkat mastitis subklinis di Indonesia yang mana kehadirannya seringkali tidak terdeteksi karena tidak menunjukkan gejala fisik apapun. Alat uji mastitis paper detection ini memanfaatkan bahan – bahan yang mudah didapat, seperti kertas filter, sabun cuci piring sebagai surfaktan, dan metilen blue sebagai pewarna dengan harapan para peternak dapat dengan mudah membuat alat deteksi ini.
Segenap pimpinan dan jajaran Jurusan Biologi FMIPA mengucapkan Selamat dan Sukses.