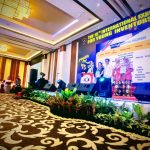 Nadia Riqqah Nurlayla dan Rizka Fajriana Putri Ramadhani adalah mahasiswa baru Jurusan Biologi, Fakultas MIPA UB yang berhasil menorehkan prestasi di tingkat Internasional. Sebelumnya mereka menyabet 3 penghargaan sekaligus pada ajang The 4th Istanbul International Invention Fair (ISIF) 2019. Kali ini, mereka kembali berhasil meraih prestasi dalam ajang International Exhibition for Young Inventor yang diselenggarakan oleh Japan Institute of Invention and Innovation (IEYI). Acara tersebut berlangsung pada tanggal 23-27 Oktober 2019 di Indonesia Convention Exhibition, Tangerang, Indonesia. 
Pada acara tersebut tim gabungan mahasiswa (dengan Rahmah Nur Diana (Teknik Informatika-FTUB 2019)) tersebut berhasil meraih 4 penghargaan sekaligus, yaitu silver medal, special award dari China, special award dari Phillipines dan special award dari Macao.
Pada kompetisi tersebut Nadia beserta tim menciptakan sebuah karya berjudul "Maos App: A Novel Application Using Mathematic Fractal Analysis for Schizophrenia Early Detection on Fingerprint Pattern". Ide dari Maos App berasal dari sulitnya untuk mendeteksi secara dini skizofrenia serta belum adanya solusi untuk mendeteksi skizofrenia dengan murah, cepat, dan tepat.
"Kami menggunakan matematika fraktal dalam mendeteksi sidik jari penderita skizofrenia. Karena fraktal sendiri dapat mendeteksi ketidaksamaan pola sidik jari melalui rumus box-counting. Prinsip dari rumus fraktal box-counting adalah menghitung jumlah box yang menutupi objek sidik jari kemudian dilakukan serangkaian iterasi menggunakan rumus yang sama dengan memberi ukuran box yang berbeda-beda. sehingga dari serangkaian deteksi sidik jari kami mendapatkan nilai akurasi diatas 80 %." ujar Rizka.
Setelah melakukan deteksi sidik jari, algoritma tersebut diaplikasikan dalam bentuk aplikasi mobile. Aplikasi mobile ini diintegrasikan dengan fingerprint scanner sehingga proses deteksi sidik jari skizofrenia menjadi lebih cepat dan mudah.
Sekali lagi, Segenap pimpinan dan jajaran Jurusan Biologi FMIPA mengucapkan Selamat dan Sukses.