Kuliah Tamu Prof. Maurice S. B. Ku, PhD., National Chiayi University, Taiwan

18-Dec-2019

admin
Headline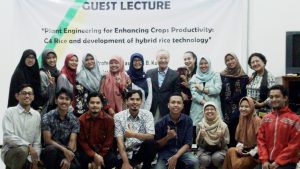 Pada hari Selasa/ 10-12-2019, Jurusan Biologi UB (JBUB) kembali mengadakan kuliah tamu. Kegiatan kuliah tamu kali ini menghadirkan Prof. Maurice S. B. Ku, PhD dari National Chiayi University, Taiwan. Kegiatan yang bertema "C4 Rice: Improving Rice Productivity with C4 Photosynthesis" tersebut berlangsung pada pukul 10.00 WIB, di Ruang Biologi, Ged. Biologi Lt.2. Kegiatan tersebut di buka dengan salah satu dosen Biologi, Rodiyati Azrianningsih, P.hD. dan dihadiri oleh dosen dan mahasiswa dari berbagai fakultas di Universitas Brawijaya, antara lain fakultas MIPA dan Pertanian.
Pada kuliah tamu ini, pembahasan utama ada pada beberapa hasil penelitian mengenai proses mengubah tanaman padi (C3) menjadi tanaman padi (C4). Pengubahan tipe fotosintesis dari C3 ke C4 dilakukan untuk meningkatkan efisiensi produksi beras pada padi. Pengubahan padi C3 menjadi C4 mampu meningkatkan produksi beras hingga 70%. Metode, Teknik, serta pembahasan mengenai penerimaan masyarakat dunia terhadap tanaman transgenic juga dibahas pada diskusi ini.
Kegiatan dilanjutkan dengan kunjungan ke laboratorium di Jurusan Biologi. Kunjungan ini menitikberatkan pada diskusi tentang peningkatan keberhasilan serta efisiensi kultur jaringan, terutama kultur jaringan tanaman porang.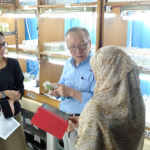 Kegiatan selanjutnya ialah penyampaian materi kuliah tamu oleh Prof. Ku yang dilaksanakan di LPPM, Universitas Brawijaya dengan judul "Tissue Culture of Porang and Its Application in Seed Production" dan "Use of Modern Plant Biotechnologies to Improve Crop Production". Kegiatan dilanjutkan dengan diskusi dengan anggota pusat studi terkait, yakni P4I. Kegiatan ini dihadiri oleh seluruh akademisi yang tergabung pada pusat studi P4I.
Salain itu, kunjungan lapang juga dilakukan, yakni ke petani porang di UB Forest. Pengamatan pada bunga porang serta fase bunga yang tepat untuk kultur jaringan juga dilakukan.