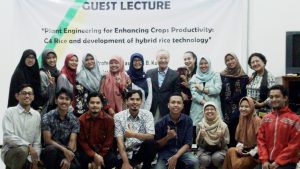 On Tuesday (10/12/2019), the Department of Biology, Universitas Brawijaya, held a guest lecture. This guest lecture invited Prof. Maurice S.B. Ku, Ph.D. from National Chiayi University, Taiwan. The event themed "C4 Rice: Improving Rice Productivity with C4 Photosynthesis" took place at 10:00 pm on the 2nd floor of the Biology building. The activity was opened by one of the Biology lecturers, Rodiyati Azrianingsih, Ph.D., and was attended by lecturers and students from various faculties at Universitas Brawijaya, including the Faculty of Mathematics and Natural Science,  Faculty of Agriculture.
At this guest lecture, the main discussion was on some research results on the process of converting C3 into C4 rice plants. The conversion of photosynthesis type from C3 to C4 was carried out to increase the efficiency of rice production. The conversion of C3 to C4 rice could increase rice production by 70%. Methods, techniques, and discussions about the world community's acceptance of transgenic plants were also discussed in this forum.
The activity continued with a visit to the laboratory in the Department of Biology. This visit focused on discussions about improving the success and efficiency of tissue culture, especially the tissue culture of Porang plants.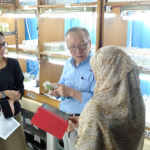 The next activity was the delivery of guest lecture material by Prof. Ku, held at LPPM, Universitas Brawijaya, titled "Tissue Culture of Porang and Its Application in Seed Production" and "Use of Modern Plant Biotechnologies to Improve Crop Production." Finally, the activity continued with discussions with members of the related study center, namely P4I. This activity was attended by all academics who were members of the P4I study center.
In addition, a field visit was also conducted to the farmers' community in UB Forest. Observations on Porang flowers and the proper flower phase for tissue culture were also carried out.